Rex - A Fond Farewell to an Amazing Person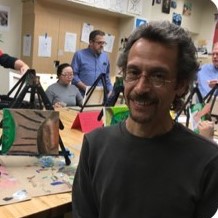 Rex, There aren't enough words to say how much your commitment and dedication have meant to us. When you are thought of the following quote feels very relevant: "We often take for granted the very things that most deserve our gratitude"-Cynthia Ozick.

We hope through this page you will find that gratitude from all of us who have been so positively impacted by your many, many contributions. As you embark upon your next journey in life we want you to leave knowing how important you are to us. This is a happy as well as sad time for us; we are happy because we know that this decision will bring great joy to your life. We are sad because we are losing a vital colleague, co-worker, teammate, and, above all, an amazing friend. We're going to miss you more than words can say. Your impact on our lives will stay long after you've left.

We just want to remind you how special you are, how pleasant it was to work with you, and just how much you will be missed. We also want to highlight special times, thoughts, and memories we share. As life moves forward, we hope to meet again at some crossroad in this continued journey of life; that's a fancy way of saying please keep in touch!!!

We wish you all the happiness, joy, and peace in your next journey through life. Please be sure to have fun taking on the world - we will look forward to reading all about it in your best seller!

Please read our fondest wishes to you below!