Make Your Own Farewell or Retirement

Countdown Calendar
To Print Out - Free!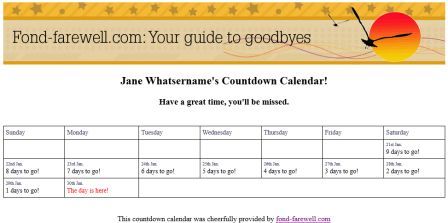 So you've set the date to say goodbye!
Make it a visual with this free farewell or retirement countdown calendar and let the anticipation build.
Your last days will be happy and relaxed with a daily 'cross-out' ritual.



Display your calendar prominently, so coworkers and supervisors are discouraged from disturbing you with workplace trivialities.



Or at home, ensure your calendar is well-placed to elicit more appreciation and sincerity for your presence in the time you have left.



"Accidently" print extra copies and "thoughtlessly" leave them laying around. At worst they will end up in the bin; at best a great farewell party and an expensive farewell gift will be dutifully organised.


Have fun!


Instructions for the fill-in printable calendar:


Click on the link below to take you to the free calendar creator.



Select the date of your leaving.



If you wish, change the default text of each date box.



Type in your name, or whoever is leaving.



Add a farewell message.

Click Refresh to view what you will print out.



Click the calendar's Printable Version when you're happy.
Actually, I've changed my mind.