Farewell Poem Samples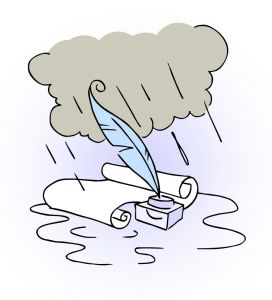 Write a farewell poem, look like a genius!
Is it easy?
Well, the words might be just as hard to come as for any farewell message or speech, but the fact that poems are structured will narrow your focus and give you a start point.
The more structure your poem has, the narrower your focus, and you'll find this restriction a good thing if you have too much to say and no way to say it.

Structures include rhymes, rhythm and style, such as those in a haiku, limerick/ditty, couplets or sonnets.
No, your poem doesn't have to rhyme.  And it can be any free form you like.

No, it doesn't have to be original - you can grab a classic poem and replace some words.



Are you interested in sad goodbye poems?

Or what about Retirement: farewell poems, funny verses or for a teacher?



It must have been 5 year ago
The Gwitky's moved here from abroad
Now we have to watch them go
And we will surely miss them so

Besides Marge, Sam and little Margot
I'll feel the loss of Sam's lawnmower
No longer rusting in my shed
It'll help a new friend instead

I'd like mention Marge's sculptures
That had the whole street in raptures
Your yard was the only one not the same
And it put my garden gnomes to shame

So fare thee well and best of luck
Moving On takes a lot of pluck
It won't be easy to forget you
And we know you'll miss us too.


Consider the gift of a goodbye poem! Buy an illustrated story for someone you already miss.



Loaded car on the highway
Gasp at state lines
Oven still on

*

No more gold watches
Hundreds of Post-It pads
squirreled away.
Written your own Farewell Poem?
Do you have a great goodbye poem? Share it!
YOUR Farewell Poetry
Add your own, or read for inspiration!

Home › Farewell Poem Top of page