Farewell Gift Ideas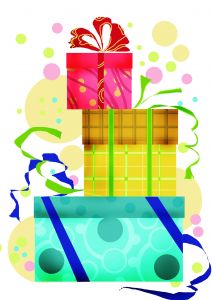 So what ARE you going to get them?

A good farewell gift will help someone remember the people or the place they are leaving behind.  
So anything with personal touches, like an engraving, group signatures or photos, is a good idea.
An even better gift will help that person know and feel that they were appreciated, respected and valued for their time, presence and efforts.  
That is the tricky part if you focus only on the gift as the farewell.  A great gift goes a long way, just make sure that smiling faces, a nice speech and a shared cake are part of the experience. 
More suggestions below:

To maintain professionalism when someone is leaving work, your best options are to give:

something to remember the company by
something to remember the workplace/department by
something they can use in their next job
something to mark their contribution.
Stuck with (or volunteered!) an extra job at work?  
Not sure how to organise everyone, because it is like herding cats?
Struggling to get donations from colleagues?
Get a step-by-step guide for getting your colleagues to contribute, as well as a little advice on your approach.
So YOU'RE leaving? Feeling generous?  Want to be remembered, and let them know that you truly valued working with them, that you thank them for being a part of your life?
Click for smart ways to get the most value out of your budget, whether you are giving to adults or children.
Now you can get all sentimental, or wild or whatever you please!
Try:

Private joke gifts
Nostalgic gifts
Travel gifts
As well as some ideas for the person who already has everything! No, the answer is NOT to give them nothing (see rant below). 
For people struggling with the goodbye, consider giving a memory filled Be-loved Pillow full of emotional treasures.
Try these funny git...er, gift ideas, plus cautionary advice on actually giving them... because taste is individual and every jokes needs to be set up first.  I'm serious, read the article so you don't end up looking bad.  
As for the private joke gifts described above, it's about making sure the receiver 'gets' the joke!


Save yourself time and torture thinking of something thoughtful.  Have a browse, and make sure you don't leave ordering to the last minute.
Check out the award-winning farewell books, cool designed items, or the free digital scrapbook!
Just Give Something!

Still all too hard?
When stuck for an idea, go mainstream with something like chocolates, wine, hugs and cards!
Some mainstream ideas:

gourmet food and wine
flowers or balloon bouquet
company t-shirt or hat
hamper or gift basket
trophy, plaque, medal (engraved of course)
tickets to a show/event or activity such as a spa or horse-riding. 
gorgeous coffee-table book
Advice 1 - Food:
Even if the receiver is a monk and therefore non-materialistic, even if the receiver is super-rich and has everything, even if they are mysterious or non-verbal or whatever - nobody ever went wrong giving FOOD.  
Just get food that most people would like.  
Don't.
Anything that is a little bit too different might look like you got it on markdown - I'm talking about weird "we tried an experiment" Lindor Chocolate Balls Lemon flavour type of food.  No. Just get the plain Lindor Chocolate Balls.  Unless you know they really like those Lindor Chocolemonstein freak balls, you are obviously picking something random up that was on special, because nobody buys it as nobody thinks they'll like it and the store made a terrible mistake ordering it, so now the store has to get rid of it.  
And this is only acceptable for a joke gift, for which you MUST read the instructions by clicking the Joke Gift link above.  Take some pointers from the professionals.
By all means, buy the lemon balls on markdown for YOU, maybe even serve them up at the farewell morning tea.  Which brings the next point - make sure the food gift is more attractive and better quality than what is served up at the farewell gathering.  
Advice 2 - Social conscience giving:
Any item you get, if it is supporting a local industry, or environmentally sustainable, or donates to children's orphanages, or is free-range, wild-caught, organic, or helps research into homeless beekeepers, will look like you did some research and took some effort to make the receiver feel good about their gift.  And so they will feel good about their gift.  Well done!
RANT:
If you ever think that somebody might be embarrassed by a showy, expensive gift, maybe because they might be shy, caring or humble (yes I have heard this excuse)... knock that thought out of your head!  
Be generous!
If you can afford it, go for it!  Everybody loves to receive a generous gift, even if deep, deep down and secretly.   Everybody!  Because everybody has been a present-loving kid once :)
For those of you who can't afford a showy, expensive gift, no doubt the receiver understands - so can you think of other ways to be generous?  Can you put in extra effort to organise a group to donate?  Can you give extra time to give a hand-made gift that WOW factor?  Can you call in favours from other people?  
The only reason anyone might be embarrassed would be if they felt obliged to reciprocate - so you would immediately reassure the receiver that this is not the case.   That in fact you "wanted to make extra doubly sure they never forgot you" or that you "got this thing for Christmas and was looking to regift it lol" or that they "wouldn't understand how much you appreciated their help and this is just a token compared to what they contributed", or that you " just wanted to embarrass them anyway with a ridiculously showy gift lol"!
Good luck gift-hunting!
May you live as long as you want,
And never want as long as you live.
(Irish Toast)
More Farewell Gift Ideas!
Click for some suggestions for specific farewell gifts - and add your own ideas!
Military Farewell Gifts
Recruits are only allowed very specific items, anything else can be confiscated, so be careful with your going away gift idea. Remember that there …
Media.net ads below: