Goodbye Songs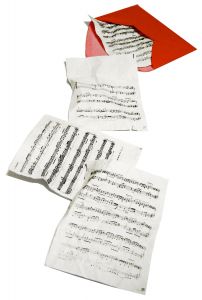 Are you in the mood for a good cry?!

Or maybe you just need goodbye songs for a going away party?

Check out the farewell songs below, whether to enjoy wallowing in your sadness, or to find just the right commemorative anthem!
Punk/Metal

Alternative/Rock

Pop/Folk

R&B

Easy Listening

Country & Western

Traditional

Musicals

Friendship ballads

Spiritual

Click on the links below to view the farewell song videos on each page...
Punk/Metal:
Anchors Aweigh by Bouncing Souls
Punk sea shanty.

School's Out - Alice Cooper
Unrepentant high energy rock song celebrating the end of school!

Where'd You Go by Fort Minor
Alternative rock and hip hop with sweet female vocals – energetic and sad.
Warning: Profanity!

Never Say Goodbye - Bon Jovi
Slow, melancholy, reminiscing 'soft metal' love ballad.

Farewell to You - White Lion
'Soft metal' genre, slow rock ballad.

Farewell by Avantasia
Gothic heavy metal opera duet.
Alternative/Rock:
Last Goodbye by Jeff Buckley
Alternative rock ballad with soaring vocals.

Just Breathe by Pearl Jam
Comforting folk rock song.

Good Riddance (Time Of Your Life) - Green Day
Reflective rock/pop ballad.

Ramble on - Led Zeppelin
70's rock song with typical Led Zeppelin sound.

Closing Time - Semisonic
90's rock/pop song.

No Cars Go - Arcade Fire
Indie Alternative Pop song about everyone reaching freedom.


Pop/Folk:
Farewell by Rihanna
Amazing soaring vocals, about letting a friend go live their life.

The Graduation Song - Vitamin C
Pop graduation song - laid-back rap feel.

Don't You Love Me No More - Henry Priestman
Redundancy song. Very clever lyrics about leaving work on a low note.

Best Days - Graham Colton
Compare to Good Riddance, but more folky pop.

The Call - Regina Spektor
Very pretty ballad about hope, and sending someone off to war.

Everybody's Changing - Keane
Upbeat slow pop song, with reflective lyrics.

Restless Farewell - Bob Dylan
Slow folk anthem about always moving on.

Keep Me In Your Heart by Warren Zevon
Light folk song with a chant-like chorus that becomes heart-wrenching.

I'm Not Gonna Cry - Corey Smith
Uplifting ballad about bitter-sweet graduation.

Time of my Life - David Cook
Power ballad celebrating the now and diving into the future.

Breakaway by Kelly Clarkson
Power ballad - glad to get away from a small town and fly.

Here's To The Night by Eve 6
About friends staying in the moment as long as possible.

Wherever I go by Miley Cyrus and Emily Osment
A light, sweet song about looking forward.

I'll Always Remember You - Miley Cyrus
A song about people moving forward on their own paths.


R&B:
It's So Hard To Say Goodbye To Yesterday by Boyz II Men
Moving, slow R&B song with beautiful vocals.

I'll Be Missing You (B.I.G.) by Puff Daddy
The title says it all - a song for grieving.

Easy Listening:
Goodbye by Lionel Ritchie
Very soulful ballad.

Times of your life by Paul Anka
Slow 70's ballad.

Farewell to the Old Me by Dar Williams
Farewell ballad about leaving the past behind and becoming a different person.

All Things Must Pass by The Beatles
If you like Blackbird, you'll like this...

A Summer Song by Chad and Jeremy
Nostalgia without being over-sentimental.


Country&Western:
I Hope You Dance by Lee Ann Womack
This country ballad is a tear-jerking friendship affirmation.

Goodbye (Kelly's Song) by Alabama
Sentimental slow country goodbye song.

My Wish by Rascall Flatts
You'll cry buckets, missing someone you've watched grow.

You're Gonna Miss This - Trace Adkins
Slow, uplifting and reflective, father's perspective.

Don't Forget to Remember Me by Carrie Underwood
Very touching country song about turning 18 and leaving home.

Take This Job and Shove It - David Allan Coe
Very funny 60's/70's goodbye song - very catchy and makes a good singalong!


Traditional:
Ashokan Farewell
Haunting instrumental in the style of Civil War music.

The Parting Glass
Traditional Irish folk song (pre-Auld Lang Syne!)

Auld Lang Syne
Classic New Years Eve party song.

Time To Say Goodbye (Con Te Partiro)
Beautiful Italian classical crossover song. Performed by Andrea Bocelli and Sarah Brightman.


Musicals:
We'll Meet Again by Vera Lynn
Famous World War 2 song, that although not originally from a musical as it debuted in 1939, this goodbye song gave its name to the musical 'We'll Meet Again' in 1943 with Vera Lynn as the lead actor.

So Long, Farewell from The Sound of Music
Classic, cheerful and humorous good-night song featured in the musical "The Sound of Music".

For Good from the musical Wicked
Lovely uplifting sisterhood duet. A farewell ballad of heartfelt thanks.


Friendship ballads:
You've Got A Friend in Me - Randy Newman
Blues-y, uplifting song about friendship no matter what the future holds. From the movie "Toy Story".

True colors by Cyndi Lauper
Beautiful friendship affirmation 80's ballad.

Lean on Me - Bill Withers
Soul Ballad originally performed by Bill Withers, also presented with a version by the cast of Glee.

Because You Loved Me by Celine Dion
Very moving love-affirmation song.


Footprints In The Sand by Leona Lewis
Another tear-jerker!

Spiritual:
God Be With You
Solemn Christian hymn based on the etymology of "good-bye," which is "God be with ye."

Into My Arms by Nick Cave
A ballad for when you are wishing the safe return of someone dear to your heart.
| | |
| --- | --- |
| | (or suggest genre improvements because I am not a music buff! All suggestions gratefully received, even if not acted upon immediately because life.) |