Social Farewell Gift

Need farewell gift suggestions for someone special?
Let's break some ideas down into categories:
Private joke gifts

These gifts are really good when they are part of a speech or presentation - because then you can be sure the person going away 'gets' the joke.
Some examples from the fond-farewell.com team archive:

Once presented a game of Hungry Hungry Hippo to a touch football coach, after telling the crowd that now the season was over she could still look forward to a blood sport. It got big laughs.


Photoshopped colleague's head onto a Cheech and Chong picture (don't ask, but it's not what you think!), which was presented after telling the story. Colleague absolutely cracked up.


Gave a Mount Isa vacation-work student-geologist a baby t-shirt (size 0) that said "I'm a mini miner from Mount Isa".


For someone going away to or graduating from college - created a poster that headlines "Things they don't teach you at college". The poster had some very patronising advice about putting socks on first, and other advice that was related to some shenanigans in our past.
Again, make sure your gift doesn't blow up in your face - choose carefully!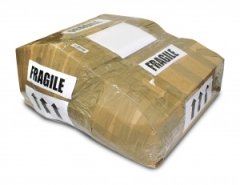 Nostalgic gifts

Photos!
A photo album or framed group photo is a very sentimental gift and can be a real tear-jerker.
If the person or family is moving town, include photos of local places.
Captions really make it special.

A gift like this is a useful 'brag' book for the person leaving.They can show new friends who they are and where they're from.

Similarly a scrapbook, signed t-shirt, or a card with messages from everyone will be treasured.
Variations on the photo:
photo collage
photo on a keyring, mug, t-shirt, pillow cases (very funny) or any other item that can be printed
photo in a locket
home-made sketch/comic book of good times or personality traits (if you can't/don't want to use photos). This can be quite hilarious. And stick figures can be really moving!
photo print on stretched canvas for the arty types
cd or dvd presentation/album, with a photo as the cover

Don't forget to sign the back of the frame or include captions in the album.

A nostalgic goodbye present can be a souvenir - to remember the place by, such as a snowdome if you've lived in the Alps.


For a really special farewell gift, create an advent calendar system. For example, every week that you're away, someone special gets to read a letter or note with a chocolate or photo or something small. The note can tell them what you will miss about them, or can describe an anniversary event or memory that you shared. You can give a box of these notes, or create a mobile of tiny packets, or hang the packets from an indoor shrub, or hide them around the house (where each packet gives a clue to the next packet location and the date to open it).
Travel gifts

These are farewell gifts that are small, easy to pack and useful, like:
maps (with everyone's high-lighted touches on them),
taped messages/playlists for long rides,

books (maybe a group of you could write one for the leaver, using anecdotes etc)
blank notebooks/diaries also with messages from people.


Less personal but useful things like:
a phone card,
adapters,
money belts
other travel gear
would still be appreciated, but think of how you could personalise them to make them more interesting.
If you don't want to weigh someone down with extra stuff that they probably don't need:
sew something personal onto their rucksack/daypack like a travel blessing or an image/icon of Saint Christopher (patron saint of travellers)

a small token, like a pin of the Blue Peter. The Blue Peter is a sailing flag hoisted when a ship is ready to sail - Outward Bound.

donate charity dollars to "buy" a donkey/well/brick-in-a-mental-hospital, in the country the person is visiting.


Blessings and spiritual best wishes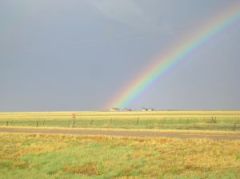 For a more spiritual or otherwise earthy type of person or going away gift, consider things like the Saint Christopher suggested above, or Tibetan prayer flags, worry stones or other such comfort or spiritually-laden objects.

Tibetan prayer flags with extra flags of your own messages are bright, colourful and sweet.

Worry stones can also have a blessing carved into them.
Tiny bibles or religious books, or portions of them.

An ornament for the front door of your leaver's new home (like a smiling sun, or something that will remind them of your town) that will greet them every day with your best wishes is a thoughtful farewell gift.

Of course jewellery, watches and other metallic items are great going away gifts that can have blessings and best wishes engraved into them.

For the person with everything, from a giver with no clue!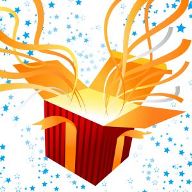 So after looking around at free goodbye present ideas, and browsing The Farewell Gift Shop, you still can't decide?


Some advice:
Don't compete with their other material possessions, or their own acquisitional taste.

You can give them something random that reflects YOU.
You can make sure they have a fantastic party organized for them - make the theme something fun and activity based, like a black-tie casino party at home.

Or you can organize activities in their new place to help them settle in and meet people - like getting a membership to the local toastmasters or gardening club, or classes in the local theatre group, or a guided tour of their new city - depending on their interests.

You can give the gift of time, so any company such as Dial an Angel that can help with activities for busy people, or consultation with a professional organizer are some ideas.