Funny Retirement Poems
Check out our sample funny retirement poems to give you a silver (haired) lining to the retirement grey cloud.
Look no further than here, to give you cheer!
And for more ideas, at the bottom of the page are some famous light verses adapted for retirement - you can do the same to your favourite.  The adapted poems below are out of copyright and the original poet attributed.
Too Young to Retire

It's time for me to go, they'll send me on my way.
Not working anymore doesn't make my day.
Time to retire? What are they nuts! My free-time's at stake;
I'm way too young for that retiring mess for goodness sake.
"At last you can relax" all the well-wishers chime,
How can I relax when I'm still in my prime?!
Travel the world over is what I want to do;
I won't take it easy and visit the local zoo.
I'm not so old that I can't try new things.
You won't stop me by reeling in the reigns.
Babysit grandkids while you work and play?
How 'bout once a year, on Grandparents Day.
Look, I love the the little ones, but its me time now.
So Retirement will have to catch up, cos I'm not slowin' down!
Retirement Limericks

You work and work,
Buy a house and Merc,
You live your life,
With the trouble and strife,
Retirement is such a perk!

*

How I wish for a metal detector,
Consider it a lifestyle protector,
Because I'm getting old,
But don't have enough gold,
To retire from the work sector!

Retiring and I feel exultant,
Cos I know I'm gonna be solvent,
I'll still collect pay,
Without working a day,
In my new 'job' as a consultant!

*

Hubby is finally retiring,
And needing some inspiring,
Keeping him busy,
Ain't gonna be easy,
But at least he won't be expiring!





Think you can do better?

Share your poem here!



There was an old man from the Keys,
who spent his life sailing the seas.
He retired last May;
now hikes trails all day,
and self-soothes by rocking in trees.
A Litany of Retirement Prayers
Please grant me the patience to continue to retirement day without throttling someone from HR/finance/the Tax Office
O! Have mercy!
Please grant me the courage to face an endless future of coffee shops, seaside adventures, volunteer work and binge TV
O! Have mercy!
Please grant me fortune in health to outrun grandchildren at fairgrounds and parking enforcement officers to my car in time
O! Have mercy!
Please grant me the fortune of silence, and if not, please grant me fortune in health that my hearing comes and goes depending on the badgering of adult children and HR
O! Have mercy!
Please grant me the understanding the company is safe in someone else's hands now, and that they will fix all mistakes I have discreetly hidden, thinking that these were my bosses mistakes
O! Have mercy!
Please grant me the awareness of gratitude for a full belly and all my teeth now that I part ways with the vending machine downstairs
O! Have mercy! 
Please grant the company good fortune and health to all employees and extremely generous retirement packages and equitable profit-sharing for everyone that works there including myself
O! Have mercy!
Please grant the company a cheerful, lively atmosphere so that every day working here is a joy just as it has been for me
O! Have mercy!
And if the days are not joyful then they are full of learning experiences transmuted to wisdom for everyone
O! Have mercy!
And...It is done!

Get some jokes for your speech!
Adapted poems
From W.S. Gilbert "To The Terrestrial Globe" 1865
Roll on, thou ball, roll on!
Through pathless realms of Space
Roll on!
What though I'm in a sorry case?
What though I cannot meet my bills?
What though I grieve retirement's ills?
What though I swallow countless pills?
Never you mind!
Roll on! Roll on, thou ball, roll on!
Through seas of inky air
Roll on!
It's true I have no shirts to wear;
It's true my doctor's bill is due;
It's true my prospects all look blue —
But don't let that unsettle you:
Never you mind!
Roll on!
[It rolls on.]
From G.K. Chesterton "A Ballade of Suicide" 1915
The gallows in my garden, people say,
Is new and neat and adequately tall;
I tie the noose on in a knowing way
As one that knots his necktie for a ball;
But just as all my colleagues –on the wall–
Are drawing a long breath to shout "Hurray!"
The strangest whim has seized me. . . . After all
I think I won't retire myself today.
Tomorrow is the time I get my pay–
There is free coffee down the hall–
I see a little cloud all pink and grey–
Perhaps the finance people won't call–                                            I fancy that I heard from one and all
That they'd miss me if I went away–
I'd like to go to the office Christmas ball–
I think I won't retire myself today.
The world will have another budget-day;
The decadents decay; the pedants pall;
I heard a rumour that I.T. play,
And H.R swears that I.T. squall,
Rationalists are growing rational–
And at morning tea I find graduates astray
Whom I may mentor as they are small–
I think I won't retire myself today.
ENVOI:
Boss, I hear retirement's terminal,
The tumbrils toiling up the terrible way;
Even if the stock market should fall,
I think I won't retire myself today.
From G.K. Chesterton "The Logical Vegetarian" 1915
You will find me drinking rum,
Like a sailor in a slum,
You will find me drinking mulled wine spiced and fiery
You will find me drinking gin
In the lowest kind of inn
Because I have newly become a retiree.
I am silent in the Club,
I am silent in the pub,
I am silent in case work wants to re-hire me;
I would rather drink to life
To forget the workplace strife,
Because bless me I am newly a retiree!
Though I may seem a souse,
Drinking in my private house
Do not bother with a call for an enquiry;
I will stick to port and sherry,
For they are so very, very,
So very comforting for a retiree!
A Fond Farewell (original, unadapted) by William Carlos Williams (1940)
You? Why you're
just sucking                                                                                  my life blood out.
What do I care                                                                              if the baker                                                                                 and the garbage man

Must be served.                                                                          Take what                                                                                  you might give
and be damned                                                                                to you.    I'm                                                                                going elsewhere.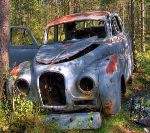 Actually I want some more sober poems!