Funny Retirement Poems
Check out our sample funny retirement poems to give you a silver (haired) lining to the retirement grey cloud.
Look no further than here, to give you cheer!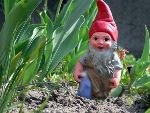 Too Young to Retire

It's time for me to go, they'll send me on my way.
Not working anymore doesn't make my day.
Time to retire? What are they nuts! My free-time's at stake;
I'm way too young for that retiring mess for goodness sake.
"At last you can relax" all the well-wishers chime,
How can I relax when I'm still in my prime?!
Travel the world over is what I want to do;
I won't take it easy and visit the local zoo.
I'm not so old that I can't try new things.
You won't stop me by reeling in the reigns.
Babysit grandkids while you work and play?
How 'bout once a year, on Grandparents Day.
Look, I love the the little ones, but its me time now.
So Retirement will have to catch up, cos I'm not slowin' down!
Retirement Limericks

You work and work,
Buy a house and Merc,
You live your life,
With the trouble and strife,
Retirement is such a perk!

*

How I wish for a metal detector,
Consider it a lifestyle protector,
Because I'm getting old,
But don't have enough gold,
To retire from the work sector!




Click here for some funny retirement quotations,

or get some jokes for your speech!

Retiring and I feel exultant,
Cos I know I'm gonna be solvent,
I'll still collect pay,
Without working a day,
In my new 'job' as a consultant!

*

Hubby is finally retiring,
And needing some inspiring,
Keeping him busy,
Ain't gonna be easy,
But at least he won't be expiring!





Think you can do better?

Share your poem here!



There was an old man from the Keys,
who spent his life sailing the seas.
He retired last May;
now hikes trails all day,
in green waves rippling through trees.