Samples of Sad Goodbye Poem

A sad goodbye poem can be difficult because you want to express how much that person means to you, and how their leaving has affected you. 
The fact that poems are very structured can help you with the form of your expression, but what words do you use?
Below are just a sample of the many poems that exist to express just this very grief.  To find more poems, look up collections at the Poetry Foundation website.  Best of luck to you!

Haiku Goodbye (sad poems) 

Winter silence
Your bandanna on the porch
Flutters and waves


Cold moon lowers
Echoed chat and laughter
Fades into day


Farewell Poem to a Daughter Graduating 

Many rewarding years ago,
My daughter once let me know,
That she would one day have to go,
Somewhere we could not follow.

For a traveller through this crazy world,
Life is a risk, one can be fooled,
Intelligence is not enough,
To learn from life, you do it tough.

But she will gamble fearlessly,
And throw herself to her destiny
And we who love her get to see
She'll be the person she's meant to be.


Song of the Thunders By Anonymous (1910) Translated By Frances Densmore
Sometimes I, 
I go about pitying  
Myself 
While I am carried by the wind 
Across the sky.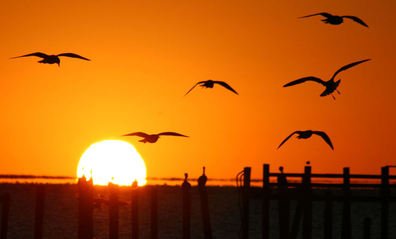 Need help with a sad goodbye?
Famous Poems 
Where Did The Handsome Beloved Go? by Jalal Al-Din Rumi (1207-1273) translated from Persian by Brad Gooch and Maryam Mortaz.
Where did the handsome beloved go?
I wonder, where did that tall, shapely cypress tree go?

He spread his light among us like a candle.
Where did he go? So strange, where did he go without me?

All day long my heart trembles like a leaf.
All alone at midnight, where did that beloved go?

Go to the road, and ask any passing traveler — 
That soul-stirring companion, where did he go?

Go to the garden, and ask the gardener — 
That tall, shapely rose stem, where did he go?

Go to the rooftop, and ask the watchman — 
That unique sultan, where did he go?

Like a madman, I search in the meadows!
That deer in the meadows, where did he go?

My tearful eyes overflow like a river — 
That pearl in the vast sea, where did he go?

All night long, I implore both moon and Venus — 
That lovely face, like a moon, where did he go?

If he is mine, why is he with others?
Since he's not here, to what "there" did he go?

If his heart and soul are joined with God,
And he left this realm of earth and water, where did he go?

Tell me clearly, Shams of Tabriz,
Of whom it is said, "The sun never dies" — where did he go?
Good-bye, and Keep Cold by Robert Frost (1920)

This saying good-bye on the edge of the dark
And cold to an orchard so young in the bark
Reminds me of all that can happen to harm
An orchard away at the end of the farm
All winter, cut off by a hill from the house.
I don't want it girdled by rabbit and mouse,
I don't want it dreamily nibbled for browse
By deer, and I don't want it budded by grouse.
(If certain it wouldn't be idle to call
I'd summon grouse, rabbit, and deer to the wall
And warn them away with a stick for a gun.)
I don't want it stirred by the heat of the sun.
(We made it secure against being, I hope,
By setting it out on a northerly slope.)
No orchard's the worse for the wintriest storm;
But one thing about it, it mustn't get warm.
"How often already you've had to be told,
Keep cold, young orchard. Good-bye and keep cold.
Dread fifty above more than fifty below."
I have to be gone for a season or so.
My business awhile is with different trees,
Less carefully nourished, less fruitful than these,
And such as is done to their wood with an axe—
Maples and birches and tamaracks.
I wish I could promise to lie in the night
And think of an orchard's arboreal plight
When slowly (and nobody comes with a light)
Its heart sinks lower under the sod.
But something has to be left to God.
How would you get a child to understand?  
Click for this gentle farewell book.
Aloha'oe (Farewell to Thee) (excerpt) By Queen Lydia Kamakaeha Lili'uokalani (1878)
Proudly swept the rain by the cliffs 
As on it glided through the trees 
Still following ever the liko 
The Ahihi lehua of the vale. 
     Farewell to thee, farewell to thee 
      Thou charming one who dwells in shaded bowers 
      One fond embrace ere I depart 
      Until we meet again. 
Thus sweet memories come back to me 
Bringing fresh remembrance of the past 
Dearest one, yes, thou art mine own 
From thee, true love shall ne'er depart. 
Acquainted with the Night by Robert Frost (1928)
I have been one acquainted with the night.
I have walked out in rain—and back in rain.
I have outwalked the furthest city light.

I have looked down the saddest city lane.
I have passed by the watchman on his beat
And dropped my eyes, unwilling to explain.

I have stood still and stopped the sound of feet
When far away an interrupted cry
Came over houses from another street,

But not to call me back or say good-bye;
And further still at an unearthly height,
One luminary clock against the sky

Proclaimed the time was neither wrong nor right. 
I have been one acquainted with the night.
Do Not Stand At My Grave And Weep by Mary Elizabeth Frye (1932)
Do not stand at my grave and weep 
I am not there. I do not sleep. 
I am a thousand winds that blow. 
I am the diamond glints on snow. 
I am the sunlight on ripened grain. 
I am the gentle autumn rain. 
When you awaken in the morning's hush 
I am the swift uplifting rush 
Of quiet birds in circled flight. 
I am the soft stars that shine at night. 
Do not stand at my grave and cry; 
I am not there. I did not die.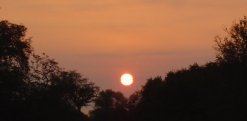 Read more poetry (for retirement) here.
Home > Farewell Poems> Goodbye Poems Top of page