Farewell Retirement Invitations
Looking for something unique, classic and special to announce your retirement?
Rather spend time planning the party than crafting the invitation?


Then impress upon your invitees that a grand occasion awaits.
Choose from our selection of Retirement Invitations (in pdf format)!

Whether you print these out or email them, people will be WOWed by the design and layout.

All you need to do is download the invitation (what happens in the download process?), add the party details to the invitation yourself (what fonts should you use?), and distribute! Easy!


Imagine receiving an invitation as gorgeous as this:


Or this: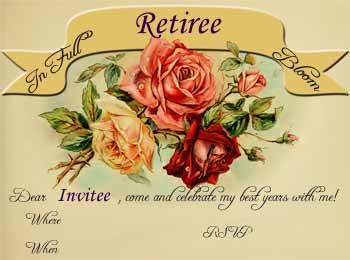 And this: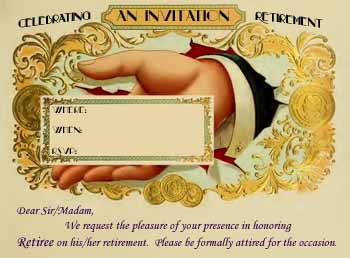 Click on the images below to view the larger image.
Note that the samples are low (50 ppi) resolution.
Downloads will be high (300 ppi) resolution.
What happens in the download process?
After clicking the link below any image, your invitation will open in a new tab in your browser.
You should then right-click on the downloaded image and save it to your coomputer.
What fonts should you use?
If you are going with fonts that are likely already on your computer (Windows users), Monotype Corsiva and French Script are both nice complementary fonts to use.
If you wish to match the fonts on the templates, you can download them for free at www.fontspace.com. The fonts are:
Coventry Garden - Template No 1;
Freebooter Script - Template No 2;
Champignon - Template No 3;
DecoCaps - Template No 4;
Kingdom Come and Monotype Corsiva - Template Nos 5,9 and 10;
Raconteur - Template No 6;
Emporium Capitals (downloadable at www.1001freefonts.com) and Monotype Corsiva - Template Nos 7 and 8.
And we wish you the best for a successful party!
POLL: