Farewell Card Message Samples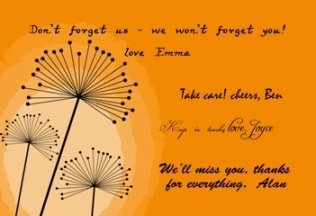 People agonise over what to write as a farewell card message...
Everyone else has taken all the words!
You need more words! Different words!

Get your short snippets and farewell quotes here to suit the person and your mood. At the bottom of the page, you'll see it doesn't have to be all about the prose.

Sincere farewell sayings
Wish you all the best in your future endeavours.
Hope we'll stay in touch.
Thanks for everything.
Glad to have met you.
It's been great working with you.
I am sorry to see you go.
Good to have known you.
Let the best of the past be the worst of the future.
No doubt we'll meet again, so this is goodbye for now.
Hope all your plans turn out just right.
We will miss the breath of fresh air you bring!
Where you're going is lucky to have you :)
Best wishes!
You deserve everything good!
Don't be a stranger!
You are the master of your destiny.
Today a leap, tomorrow bounds :)
Thank you for your company.
Thank you for your energy and spirit.


Click for example responses to their final email.
Best of luck for the future.
Keep in touch!
Thanks for your huge contribution.
I will always remember...
I will never forget...
I will definitely miss...
We've had a ball!
Keep laughing!
Keep truckin'!
It won't be the same without you.
Have fun taking on the world, I know you'll win.
You are awesome.
You are one amazing lady/gentleman.
You are a credit to yourself.
You have been a wonderful asset to the business.
I admired your immense talent.
I admired your enthusiasm.

I appreciated your professionalism.
I respect your knowledge and skill.
I appreciated your sense of humour.
Actually I struggle to say anything nice about this person -
what can I say that won't make me feel hypocritical and fake?
Good question!  Click here for fare-ill words!


Humorous farewell greetings
Go cause random havoc elsewhere!
You'll be back - the genie is what sets you free.

Clean your desk before you go!
Hope you do some actual work at your new job!
Thanks for putting up with...
This message is deep and meaningful. [Signature].
This is the most meaningful message on this card. [Signature].
Now remember, [trivial lesson]...
I know you'll miss us :)

Good riddance!
It's about time!
I'm sorry, I've forgotten what you did here...
[Insert wrong name], we will always remember you!
I'll never forget about that time with the wetsuit and the garlic press...
So long! Farewell! Auf wiedersehen, goodbyeee!
Happy Birthday!
Merry Christmas!

I think I should finally introduce myself [+ signature - preferably illegible]

At least we had 2018!
At least we had February!
At least we had lunch!
At least free coffee!
At least you are free!
It is the height of rudeness that we must continue here without your bright smile.
My wishes is the best thing on this card [signature].
My handwriting is the best on this card [signature].
My signature is the nicest on this card [print full name + Esquire/The First, or make it egotistically large]
My staying is the saddest part of your going.
I cannot believe we are all just accepting your goodbye.
I cannot believe you are actually leaving.
WTF!
Now who is going to be the heatseeker?!
Now who is going to be the coffee baron?!
Now who will be my therapist?!
Now who will do my job?!
Now who will tolerate me?!
I appreciated your diplomacy.
I appreciated your discretion.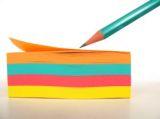 Check out some other farewell notes.

Casual goodbye quotes

See you on the flip side...
We'll have a shandy somewhere, sometime...
Enjoy, Missy/Mister...
When you can't drink with us, drink to us, matey.
Thanks for all the laughs...
Cryin' on the inside...
I miss you already!
Maybe we had just a "season" but I'll remember you a lifetime.
Nobody good ever stays still, hon.
You'll be fine :)
Hope the grass is greener, buddy :)
The good times went so quick! 

New doors are opening for you, mate!
Lots of love, [signature]
Hugs, [signature]
High five! [Signature]
Leaving?! Get outta here!
Gotta keep movin' buddy!
Don't look back, hon, I cry ugly ;)
Spoiler alert - sad face :(
Alternatives to a farewell card message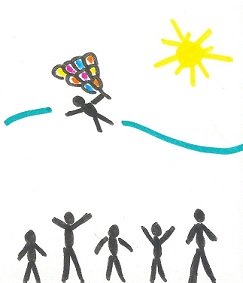 Stuck for words?  Not really a words person?

Try a little doodle!
It adds interest to the card, and is good for using up space when there aren't many signatures...!

If a stick figure is beyond you, or a smiley face, or a smiley face with punk hair and rainbow ear-rings; find something to physically add to the card.
For example:
paperclip an invoice for all the trouble they've caused, or

press a flower inside,

staple a tea-bag,

draw a crappy gold watch on a post-it note to stick inside,

leave a lipstick kiss, 
stick an emergency sweet inside,
tie in some origami,

paperclip your Take 5 or other safety/risk assessment on their leaving,
create a little paper pop-up for the card,

make a little lift-the-flap on the card to add interest to your message.

Get creative and have fun!