Gift Ideas for Retirement
It can be difficult to think of a gift ideas for retirement, especially when after most of a lifetime, the person retiring is likely to have almost everything they want or need!


It's a case of retirement gift ideas for someone who might have everything, or at least has entered a reflective stage of their lives and may think that retirement gifts are unnecessary.
These are people who are more likely to say "please save your money, don't spend it on me!" and are exasperating to show appreciation to! 
If you do have one of these "don't spend on me" retirees, make sure you "head off" the usual complaints by wrapping the gift in home-made wrapping paper, with all their usual comments "it's too expensive/ you shouldn't have spent money on me" on it and decorated with hearts and flowers, just to be cheeky ;D
Below are some ideas to get a little creative, to surprise them, make them laugh, or give something a little different that can intrigue them or be useful, or simple and home-made so they don't complain about the cost!


Simple
You could get gifts that imply relaxing at home or on holiday, such as a hammock or a sarong.  Candles or a cushion for a more comfy home.  The candle can have a sticker and the cushion have embroidery that could say "My time now!" or "All these years of hard work and all I get is this dang candle / cushion!"




You could get gag gifts that are specifically about retirement, such as a work 'prison' release form signed by the CEO or a sign saying "[insert name] Pty Ltd Headquarters" for their garden shed.



You could get them something that they can fill their time with, such as nurturing a bonsai, or print out a 3m long Sudoku puzzle.   Find a website that helps you create make-your-own crosswords - you just make all the clues and answers about the retiree, their life and the people they know.

Better yet, get them a subscription to build a website about something they love, or to start an e-business post-  or pre-retirement.


You could get

something silly

for "the person who has everything" - such as a belly-button lint remover.  Make sure you label the gift as one for "the person who has everything"!  More tips on silly gifts here.




You could get them something that refers to their age, such as magnifying-glass-attached toenail clippers, or magnifying-glass-attached tea strainer.  You could buy them an audio-book with an origami model of an ear-horn hearing aid (from the olden days), or a fold-up funky rock'n'roll walking stick.

You could get a reflective and spiritual book by Wayne Dyer who writes about this phase of life - or any other author that can help a retiree let go of what must be let go, and embrace what must be embraced.  Retirement can be an adjustment with highs and lows and the retiree may need support and company (or not - just ask them) which does NOT mean they must automatically want to babysit (another "role" in life), just that they want to be appreciated for themselves.  Another reflective gift idea is to attend meditation nights with your retiree, or to do yoga / pilates classes with them.
You could create a commitment in the form of a home-made gift certificate to binge-watch with your retiree a new show like "Foyle's War" or "Rome" one weekend.  You'll spring for the dvds, the popcorn, carpet picnic and drinks :)

While a gift that shows thought about the retiree is preferable (their likes/personality), something generic like gourmet food is usually appreciated as described and advised on this page.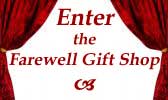 Check out these gifts!
Best of all, you could get them something that honours their time in their main-role-in-life such as a scrapbook, with photos of places as well as people, and signed captions by the others whom they have "worked" with.
Add a humorous twist by posing the retiree's work mug/pot plant/effigy in some newer 'set-up' photos, to show how much that item is enjoying retirement already.
Another similar way to honour their time is to create photo album where family members choose photos of/with the retiree that were favourite memories.  Each photo is captioned with a description of that memory by the specific family member, and how much that memory (and the retiree) meant to that member at that time.  It is really another way to let that honoured person know that they are loved and that they mattered.


Extravagant
Extravagant means to make more effort for a more rewarding and memorable gift.  This would require more organisation time, more people involved and more money.

If you want to go more up-market, it's best to organise amongst a large group to get an experience, such as a
holiday,

hot air balloon ride,

fishing charter,

local tour

meal at a restaurant celebrating molecular gastronomy, or

tickets and accomodation to a special event. 

Be generous and include another person or more to go with them!
Think of the retiree's health - would they like to do something sedate like watch theatre or opera, or can they handle something more active like parachuting or diving? 

At this age, retirees will often value time with family, so organising a reunion complete with a feast and trimmings (such as decor or great location, speeches, entertainment) may be a dream come true - extravagance can come at low cost if everyone makes a dish and family members play music!  If family have visited from out of town, upgrade the experience by organising outings and home visits with the retiree so that reunion feeling can continue.  The effort that goes into making sure everyone is welcome and gets along, with minimal family drama, will be appreciated so much by the retiree.  

What did you decide?  Thank you to every visitor who shared their ideas:

hockey tickets
framed picture
charcoal or oil sketch of the retiree
personalised calendar and cup

Home › Retirement › Gift Ideas For Retirement (Top)
Media.net ads below: