Office and Work Farewell Party Themes

Use one of the following work-appropriate farewell party themes to say goodbye in style at the office - whether retiring, or leaving work for another job, family or travel.
Sure, the workplace isn't the most creative or fun of places, so the party ideas below should help liven things up a bit!


• This Is Your Work Life: Based on the old TV series "This is your life", a "This Is Your Work Life" party would need an announcer to "introduce" people that the employee had worked with, or who could recount particular events in the work life of the employee.
An activity to go with this theme would be a "how well do you know" game, where specific questions are asked about the employee (for example, how many children do they have, when did they start working for the company etc). and see who comes up with the most correct answers.

• A Day in the Life Of: Before the party, have co-workers covertly film the person leaving doing different things. Then paste together to make a film that will be shown during the party. As the party host reads off the the person's duties and responsibilities, the film would be playing in the background. This can be done in dead seriousness, or spiced up to be humorous if the work-environment allows.


• Hippy Party: A Hippy theme would be very appropriate as a farewell party for someone who was into the 1960's, or who works in a rather restrictive work environment and who can now "let it all hang out". Tie-dyed tee shirts, bandanas - the choices for decorations are limitless and can be as ornate or as simple as budget allows. The music of the 1960's has plenty of choices for music.
Include a Tie-burning at the barbecue, pat each other down with leafy twigs to "remove bad vibes", walk around with shoes off to "connect to the earth", play meditation music "for the trees" and practise some group yoga for a laugh at how stiff everyone is.
• Bye Mom Party: For the mother figure in the office.  Home-made comfort food, cushions and blankets, a foot massager in use for people to enjoy, everyone brings their slippers, and a banner that says "Bye MOM"!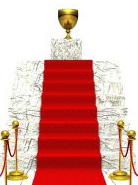 • Sports/Music hall of Fame: For the leaving or retiring Football/Basketball/any sport/Music enthusiast, a "Hall of Fame" farewell party would be "inducting" them into the hall of fame (for the company). Sporting or music related (for Music Hall of Fame) decorations would, of course, be a must. A "Play by play" or "score by score" of the retiree's activities could be read as part of the party.
For sport: A creative individual could also come up with a "game plan" the X (the retiring employee) as the moved here, moved there etc. This done as a PowerPoint would be very effective. Declaring the employee the Most Valuable Player, and awarding them with a trophy would be a nice touch.
For music: A "golden record" being awarded to them with their name and dates/years worked at the company engraved on it. "Name that tune" would be an excellent activity for this themed party.
• Oscar Party: For the movie buff, this theme would be an excellent choice. Decorations could be upscale, with an imitation "red carpet" and an announcer, who would call the retiree/leaver up to receive their Special Achievement statuette which would of course have their work information or best wishes engraved on it. For this type of affair, playing "clips" of movies and having the participants identify which movie it comes from would be a fun activity.  Having a large poster of the person prominently displayed can be a humorous touch. 
• Stop The Presses!: A Stop the Presses work farewell theme would be great for a journalist, writer, or news buff who appreciates the art of the Newspaper. A "fake" newspaper can be ordered online (or created by someone with good computer skills) and designed with a headline announcing the retirement of the individual. These newspapers would be handed out at the party, and other items in the paper would include "stories" about the person leaving, as well as a crossword puzzle (the hints being things about the their career), and even a comic strip if you have someone with artistic skills available to help.

• End Work Zone: On the door to the office, place a large orange "END WORK ZONE" sign as seen on the highways. All the decorations would be construction based, but aimed at the end of work.
• Escaping the Zoo: A great idea for an office farewell where someone is having a life change. Animal-themed decorations would be a cute, fun touch. Invitation idea: "Joe is escaping the zoo. Celebrate with us!"
• Dilbert Party: A farewell party with the Comic Strip Character "Dilbert" as the theme. Blown up comic strips, someone dressed up as the pointy haired boss, someone with a nose-cone to be Ratbert.
• Halloween Theme: Even if it's not the right time of year, the sentiment "It's going to be scary around here without you" would be a great way to kick off a Halloween based work farewell. Make it a costume party and play Halloween themed music and watch it really take off.
• GENERIC PARTY if the work place does not encourage creativity in party ideas and it is being held in the workplace, consider making it a GENERIC party. Use the generic symbol (so popular in the 80's) for all your invitations, decorations etc. and stencil "Generic Farewell" on everything... This would work for a workplace whose brand is something generic e.g. Home Brand, or Black and Yellow, or Amway, but is a risk because the person leaving might feel that they are considered a Generic person!  Use for someone who loves when something is "so bad, it's funny", or if they constantly protest the idea of a farewell party - that'll teach 'em!

Home › Farewell Party Ideas › Office / Work farewell party Top