Farewell Party Ideas
for family and friends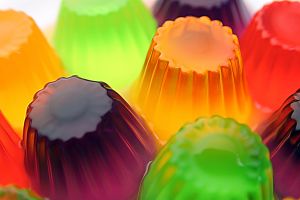 When we say goodbye to friends or family, usually it's for moving town, travel, and/or moving on to a new stage of life such as for career or education.
It's very likely that we stay in touch, especially with all the technology we have, so the farewell party is often taken for granted, or is a relaxed affair.
If you want to do more than a barbeque, a couple of tips on this page should add a bit more fun to the occasion:

Themes
Travelling themes are easy! A Bon Voyage party only needs an international theme - such as the country to be visited, or mode of travel such as a cruise/railway (orient express)/pilots and hostesses theme.

International themes are easily incorporated into the food and decor.

Travel Themes:
Bon voyage
Planes trains and automobiles
Country eg Casino in Monte Carlo theme; African safari theme, or Italy theme
The Amazing Race
Where in the World is Carmen San Diego
Survivor reality TV show 
Treasure hunt/orienteering challenges and trivia games are best for a bon voyage party; and get everyone to sign a giant 'passport' card.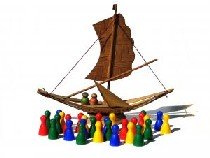 School going away party themes:
What will you be in 5 years time?
Character prominent in this year's news
Historical character
Book character
"Who am I" farewell party games are good for this type of party - prize to the person who can guess the most identities.

You can also twist any theme to a farewell if you have your heart set on a specific idea for a party - for example a "fashion" theme can be turned into "Fashion you want to say Goodbye to".
Hairstyles you want to say Goodbye to
What was Iconic for me this year/decade?
The subject I should have studied

Get more themes here.
Goodbye Party Games, Activities and Presentations
Start a betting book at farewell parties where you put down betting odds of when that person will come back, what they will look like after x time, how many drunken arrests in x country, how much debt they will have when they come back etc.
Everyone likes to have a punt.
These odds can be read out once (dummy) bets have been taken, as entertainment toward the end of the night.

Another idea is a treasure hunt that ends in Sardines - where the party hunts for items or clues about the person going away, in order to find the actual person and then hide with them.
Talk about quality time!

Have a pass-the-parcel farewell party game where each layer of paper to be unwrapped has a story about the person leaving, to be read out when a whistle blows/music stops...you get the gist.
The final wrapper should be a different colour, so that people know to stop the parcel at the person leaving, to unwrap their present.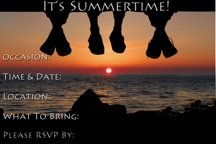 Download free invitation templates here.
Trivia quiz? Questions topics are based on people and good times shared. Include some 'fake memories' and see who believes they happened!
If you are having a backyard party for a group farewell such as for graduation, think of a bonfire, where people get to burn something they want to let go.
Nobody gets to burn without saying something to the group.
Hopefully you have witty friends.  Please do this safely, and only if you are old enough!

If you can't have a fire, how about beating a pinata with the name of your most hated subject. If it's summertime, try using a bunch of water balloons instead.

If you don't mind giving a farewell performance, use an example discussed in the workplace farewell : get a few inexpensive or funny gifts that are relevant to a story or couple of stories you can tell about a person.
Pepper giving these out at relevant points during the presentation.
This can be hilarious and painful = entertaining for the rest of us!
For the really creative and brave, performing a skit is good farewell party entertainment.
If you are worried about the skit not coming off well, then get a well-known text, such as a famous poem, and amend the words to your situation. Get a narrator to read this out loud while the rest of the troupe perform to the side. If nobody laughs at the right moments, at least at the end of the reading people will appreciate the cleverness and the work that went into it.
For a theatrical group of people, a Clue dinner party, where the guest of honour is person that has disappeared, can be fun - and goodbye / good luck wishes and personal stories can be written into the script.

And if no-one wants to say something public, organise an operagram to sing all the nice things that could be said in a goodbye speech.
Party entertainment and speech taken care of!
Or better yet, organise a flash mob to surprise the guests with song and dance and lead them to dinner - even better if the flash mob are the guests and the person surprised is the person farewelled :)
Other activities include:
making the leaver put on a t-shirt that everyone signs throughout the night (other guests get markers). Up the fun and get everyone to wear and sign t-shirts.
getting people to sign a card, visitors book, or fill in a new address book, or new diary with messages.
write on the back of polaroids/printed digital photos taken at the going away party (including contact details) that will later be sent at random times to the leaver's new address. (A great way to help that person settle into the new phase of their life.)
These can also make great favours for people attending the farewell party.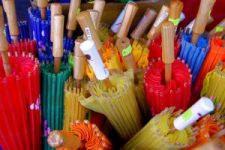 Final suggestion?
Don't forget a camera, pen, paper and tissues. Have fun! Be encouraging about the new adventure and represent yourself well, so that you will all be happy to meet again.



Choose a design, then browse for party favors

here
.