Move On From That Sad Goodbye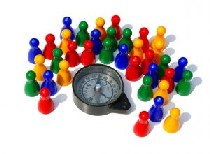 After the sad goodbye, that special person has left.
With only echoes of those sad farewells, how do you cope with missing him or her?

It comes down to doing two simple things:
keeping busy, and/or
surrounding yourself with people.
Examples of this?
Go back to school.
Learn some new skills.
Meet other people who want to learn the same things.
Can't think of something? How about a language? Art classes? Dance? Carpentry?
Look in your local paper for any adult classes in your area.

Teach.
If you have some skills that you're keen to share, find out if you can bring these to any institution that offers workshops.
People want to learn what you have to show them!
You don't necessarily have to be qualified to teach to do this - but find out.
If you live in a small town, you would be benefitting the community.


Volunteer.
Ever wanted to be a vet, but you're not? Help the local lost animals home. Want to save the environment? Find your local green group.

Volunteering will help you to meet people from walks of life that you may not ordinarily come across.
You will also be doing work that is much needed and valued.


Travel.
Go on long road trip in a caravan with a couple of friends or your partner.
Take a few months off to explore your region, or even the region of the person that has left, stopping in to see them on the way.
Or go somewhere exotic for a little while, get out of your comfort zone and get some strange experiences!
You will get new ideas for your life, and when you get home you can tackle these projects.


Start a business working from home.

For example, offer a phone answering service or sell things on eBay.
Start your own website - there are subscription programmes like Solo Build It! if you want to treat your site like a business.
Read about how SBI! was used for this site and why.


Join a club, sports group or society; or start one up.

Clubs, sports groups and societies are a great way to meet people with common interests.
These are structured ways to socialise, or learn to socialise, as they are likely to be activity-based.

This way, shy people don't have to feel awkward as there is usually something to do during club meetings that take the pressure off making aquaintances.



Whatever you have ever wanted to do, you should pursue it now!

Don't wait!

A sad goodbye doesn't have to be a tragedy!

You need to move on... not hang on.
Home › Sad Goodbye › Moving On Top of page