Retirement Party Ideas
Stuck for retirement party ideas?

The themes below will help inspire you to fill in the rest of the details like appropriate food, decorations and retirement party games.
Some of these themes require the retiree to have a sense of humor, so choose carefully!!
History Themes

• The Classic Party: "You Are About To Become A Classic" party would be a good choice for someone who is either into classic cars, or classic rock (or both) or just retiring. Use Model cars – even matchbox cars for decorations and music would be, of course, classic rock or 50's style rock and roll.


• Torch Party: Based on the concept of WWII Torch Songs, a Torch Party would be based on the theme that "I'll hold a torch for you" (keep you in my/our heart) farewell or retirement theme. Torch Songs by Julie London or The Andrews Sisters would be appropriate.

• Joining the Immortals: A Greek God/Pantheon themed retirement party idea, with nectar and ambrosia as part of the meal.

• This Day in History: Instead of everything that happened "this day in history", it would focus on what the retiree was doing on this day in history – with their career, or other points in their life. A little creative writing would be needed here, but it would be quite interesting if done right.
Post-Retirement Themes

• Gardening Theme: An excellent choice for someone who is a gardening enthusiast and who is retiring. A gardening theme is simple to decorate for, silk (or real) flowers in flower pots, seed packets, gardening tools, all can be used as decoration. A "flower pot cake" (where a chocolate cake is crumbled into a clean flower pot, and gummy worms are buried in it and its all served up with a new gardening trowel) would be a great choice for a dessert.

• Red Hat Society: A red-hat society theme for a female retiree who is still active and looking for fun. Red hat decorations are available at most party stores. The following poem by Jenny Joseph is the inspiration for Red Hatters -
Warning

When I am an old woman I shall wear purple
With a red hat which doesn't go, and doesn't suit me.
And I shall spend my pension on brandy and summer gloves
And satin sandals, and say we've no money for butter.
I shall sit down on the pavement when I'm tired
And gobble up samples in shops and press alarm bells
And run my stick along the public railings
And make up for the sobriety of my youth.
I shall go out in my slippers in the rain
And pick the flowers in other people's gardens
And learn to spit.

You can wear terrible shirts and grow more fat
And eat three pounds of sausages at a go
Or only bread and pickle for a week
And hoard pens and pencils and beermats and things in boxes.

But now we must have clothes that keep us dry
And pay our rent and not swear in the street
And set a good example for the children.
We must have friends to dinner and read the papers.

But maybe I ought to practice a little now?
So people who know me are not too shocked and surprised
When suddenly I am old, and start to wear purple
• Par for the Course: A golf-themed retirement party idea for the Golf Enthusiast. This would have "country club" fare for the dinners, and the invitation could read "Joe has played below par for the course, help us celebrate his retirement" or something similar.


• Gone Fishing Party: For the fishing enthusiast, the "gone fishing" party would have, of course, a fishing theme, since that is probably what they will spend the most time doing after they retire. Have everyone wear plaid shirts. Lures can be hung from the ceiling as decorations and can later be given as a gift.
Seafood would be the logical choice.


• Bowls Party: For the bowls, petanque or boules enthusiast, or just for fun, have the retirement party at a lawn bowls green. A bowls set with the person's name engraved would be a great gift.
• Life After Work: All the things you will be able to do, now that you have the time. Decorations and ideas will vary from retiree to retiree. Try to retrieve a list from them that includes what they plan to do now that they are retired, and base the theme of the decorations, food even around that.

• The Bucket List: Based on the movie "The Bucket List" the main activity would be for each person in attendance to write out their own "bucket list" of things they want to do in life. But the gift to the retiree would be cash, in a bucket, with a note that it is for them to "get started on their own bucket list".


• Parrot Head Party: Jimmy Buffet music will be a good choice for a member who is retiring to Florida. Margaritas are a must (even if alcohol free) – though having a sponge cake for desert would be a nice touch. Decorating is a snap with a beach style theme and you can hang flip flops (available at the dollar store) from the ceiling. An activity would be a Jimmy Buffett trivia or state of Florida trivia game.
• Caribbean Theme: For the retiree who is planning to retire to the Carribean, or who just has a fascination with it, a Caribbean themed party would be appropriate. Steel Drum music and reggae music selections would be appropriate. Caribbean menus are easy to make up: seafood gumbo is always a good choice, as is red beans and rice.
Literary Themes
• The Long Goodbye: Literature based 1920's-30's style party, cocktail glasses, fedoras and fake pearls would all be good choices for decorations. This could be used for either a retirement or a farewell party. It can even be dressed up, with participants dressing in the styles from the era, and using a 'speakeasy" theme for music and entertainment.

• The Write Stuff: A retirement party for someone who's lifelong dream is to write a book. Quotes by famous authors can be written and put on the walls, books in stacks as decorations, bouquets of newly sharpened pencils. A Writer's Guide (current year's addition) would be an excellent gift.

• The Road Less Taken: A retirement party or farewell party for the poetry lover, "A Road Less Taken" could have yellow leaves as a decorative theme (Two roads diverged in a yellow wood), copies of the poem at each place, and commemorative speeches would be nice.

Occupation-Specific Themes
• A Farewell to Arms Party: This would be a retirement farewell party for a military individual with a sense of humor, and would not be appropriate for anyone who would take offense to saying they were glad to not have to go into combat anymore. Based off the book "A Farewell to Arms", the theme could be literary, with trivia about books that deal with war or war issues being an appropriate activity.

• Shield of Freedom: A Coast Guard themed retirement party for an individual retiring from the Coast Guard. Blue and Orange decorations, model coast guard cutters or helicopters as table decorations.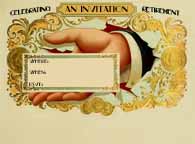 Click for retirement party invitation templates.
• Anchors Aweigh!: For an individual retiring from the navy or involved in anything maritime. Blue and gold decorations, mugs, ship models etc. as decorations, one activity could include an Anagram list of mixed up Acronyms where the participants have to figure them out in a set timeframe. Navy/sea-themed music, military marches. Or make it cute with Captain Pugwash!

• Wild Blue Yonder: Air-force themed retirement farewell party idea for someone retiring from the Air Force. Model airplanes can be hung from the ceiling, or used as table decorations.

• Neighbourhood Watch: For an individual retiring from the Police Department, who can now spend time watching the neighbourhood! Decorations being police colours, and "Neighbourhood Sheriff" medallion as a humorous gift.

• Straight A's: Teacher's retirement party – apple themed decorations. Slates and chalk etc.
Board-Game Themes

• Do Not Pass Go: Monopoly themed goodbye or retirement farewell party idea, Use Poster-sized monopoly squares as wall decorations, game pieces on the table, each place setting could be a monopoly "square" Park Place, B& O Railroad, etc. The retiree would be placed at "Go" and the gift would be $200 in an envelope.

• Speed Checkers/Chess: Chess/Checkers based retirement party. Checker/chess pieces as decorations, red and black tablecloth, balloons etc. Cake set up like a checker/chess board. The point of the theme being that now they can work on improving their game, or earn money playing speed chess/checkers!

• Life: Life Game themed goodbye or retirement party idea. Make large copies of "Life" playing cards. "Life has thrown another curve at you – congratulations!"
Reflections
• Zen Party: For the person interested in contemplating the meaning of life, a Zen party would be a good theme for a retirement party. Very sparse decorations (keep it Japanese simple), a few single flowers in single vases. Yoga/meditation, spiritual retreat style retirement party. A low table with individuals seated on cushions, vegetarian dinners (fresh fruits and vegetables), a tofu dish, relaxing music.

• Slow Down: A call for a retiree to kick back and relax. Music by Simon and Garfunkel as well as Peter Paul and Mary, favorite foods, wild flowers as decorations.

• The Illusionist: "Time is an illusion" - a retirement party with a magic and illusion theme. A magician could be brought in to provide entertainment or a palm reader to provide entertaining "readings".
"That's Entertainment!" Themed Retirement Party Ideas
• Big Top: A Big Top party would be in celebration of the retiree's "leaving the work circus". Circus themed party, you could even hire a clown to come in and provide part of the entertainment.

• On Broadway: Broadway musicals come to almost every major city in the U.S. A Broadway-themed retirement party could have a well-constructed PowerPoint presentation running with scenes from some of the retiree's favorite Broadway musicals. "Tonight you are the star" would be a great theme idea.

• Jazz Night: A jazz themed retirement party idea, with a jazz band or jazz music, flapper theme, for the jazz enthusiast who is retiring or leaving.


• Silver(haired)screen: A Goodbye party for the movie buff. Unraveled film and glitter as decorations, movie posters too if you can manage them. A running PowerPoint on an overhead projector playing goodbye scenes from well-known movies would be good as well. Trivia would, of course, be "name that movie" or movie-based trivia game.

• At the Symphony: For the symphony or orchestral lover, a retirement or goodbye party based on musical works would be excellent. If the budget permits, a chamber orchestra would be ideal, though pre-programmed orchestral music would work as well.

• Phantom of the Opera: An opera based retirement party idea for the retiring opera enthusiast. Selections from operatic music for the background, domino masks, and a pair of opera tickets as a gift.

• Dinner Theater: For the retiree who loves theater, or dinner theater, a dinner-theater party would be an excellent choice. Tables that seat up to six per table all ranged around a stage, where a small acting group would enact a play during dinner.

Click for farewell dinner presentation tips.
Other Themes


• Elegant Formal: For the ultimate in retirement parties, this would be a black tie affair, gowns, band, the works.

• Life is a Gamble/Vegas Nights: For an individual who is retiring who loves gambling, or who is simply a Vegas fan, Vegas Nights, would be a casino styled theme party, with all proceeds from games being the retiree's gift. Team with the Elegant Formal theme to give it that James Bond touch.

• Shiver Me Timbers: Pirate themed retirement party, for the old pirate who has "collected his booty" and is now going off to retire. Bags of gold wrapped chocolate coins at each plate, a pirate hat for the retiree, and gold plastic goblets and beads scattered across the tables would all be good decorating ideas.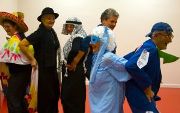 Interested in some funny party themes?
Home › Retirement › Retirement Party Ideas Top of page
Media.net ads below: